Portfolio: Belleville Roots Music Series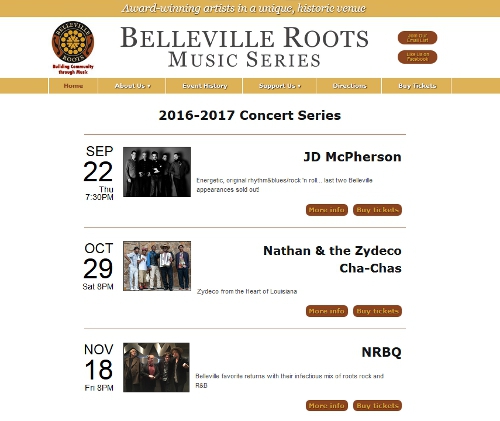 Client Testimonial:
"Over four years our website had grown haphazardly as new material was added without much thought to design. We engaged Tatiana to help us develop a site that would look more professional and would be more user-friendly. We found her pleasant to work with, detail oriented, and responsive to our creative vision for the new website. Moreover, the upgrade project was completed in the time frame we mutually established and was within budget. We are all proud of our new website. Tatiana continues to update content monthly for us, and we are very pleased with the relationship we have established."
Belleville Roots Music Series website committee
Site Information:
Website Address: www.BellevilleRoots.org/;
Design Completed: March, 2016;
Created With: HTML, CSS, and PHP.
This was a re-design of the previous Belleville Root's webpage; please click here to see the original webpage.