Testimonials: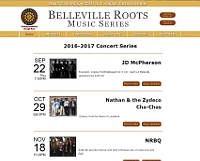 "Over four years our website had grown haphazardly as new material was added without much thought to design. We engaged Tatiana to help us develop a site that would look more professional and would be more user-friendly. We found her pleasant to work with, detail oriented, and responsive to our creative vision for the new website. Moreover, the upgrade project was completed in the time frame we mutually established and was within budget. We are all proud of our new website. Tatiana continues to update content monthly for us, and we are very pleased with the relationship we have established."
Belleville Roots Music Series website committee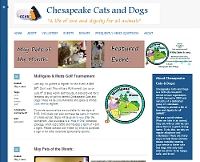 "The website is phenomenal. It's always up-to-date, and easy to navigate, which helps portray CCAD as a professional and well-organized animal rescue. First impressions mean a lot, so hopefully this will entice folks to adopt from us!"
Kelly Cooper, Chesazpeake Cats and Dogs, former member of the board of directors
"The process was flawless! I gave Tatiana an idea of what I was looking for and she took care of the rest, (including content)! Updates are taken care of quickly and any questions or problems are addressed immediately. Having a professional Website has directly impacted the success of my business, and dollar for dollar has proved to be one of the most important marketing tools we utilize."
Dr. LaNae Baker, Kent Island Chiropractic & Rehabilitation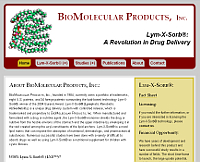 "Judged by process, performance, and results, Tatiana's work excels.

"Her knowledge and experience enabled her to guide us through a complete redesign of our company's web site. She helped us prune the overly long and technical content so that the site became easily readable. Her design and use of graphics made the new site far more visually appealing than its predecessor. The result of her work is a clean, crisp, appealing site.

"The results were immediate. Within the first month after the new design came online, hits to the home page tripled from the same month a year before. The number of viewers going on to other pages vastly increased,as did the amount of time spent on each page—from a few seconds, typically, to minutes.

"Tatiana is pleasant, cooperative, and knowledgeable. We enjoyed working with her, were impressed with the quality of her work, and found her fees more than reasonable."
Robert Gould, President of BioMolecular Products, Inc.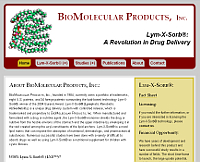 "Tatiana Hamboyan Harrison is a joy to work with. Changes and additions are done quickly and efficiently. This year BMP asked for a complete redesign. She takes a company's vision and goals and makes them happen. Not only does her design generate more page views and more visitors to the website, but her design makes it easier to navigate the website. Our first month's web statistics have shown that the cost of hiring Line by Line was well worth it."
Catherine Gould, Board Member at BioMolecular Products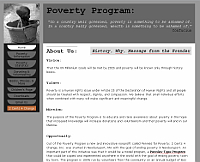 "Tatiana's design for the new Poverty Program website was beautiful in its simplicity, reflecting the seriousness of the topic. The new site is easy to use and with the great amount of information, it is easy to find what you're looking for.

"I have worked with Tatiana on several websites and she has always done a superb job. From start to finish she is reliable, prompt, patient, creative, and easy to work with. She takes your vision, improves on it and gets the job done. Always available for quick updates, reviews, and dumb questions. Her annual maintenance plan is a great deal."
Catherine Gould, Founder and Director of the Poverty Program, and Founder of Pennies for Poverty: 2 Cents 4 Change, Inc.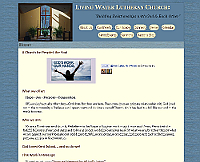 "I found Ms. Harrison easy to work with, knowledgeable, flexible, and helpful in the process of figuring out what should (and could) go on our redesigned website. Of particular importance to me was a website that was easy for me to update. Ms. Harrison's instructions have been easy to follow. In addition, she has provided us with programming instructions to help us change the content and appearance of our web pages as needed."
Pastor Mark Walters, Living Water Lutheran Church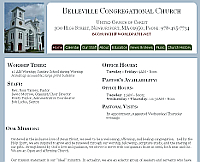 "Tatiana is very knowledgeable in her field, reliable, and dedicated to the specific needs of each client (as a church, our web presence has unique elements, and Tatiana has worked well with our administrators). We value her creativity, and the pride she takes in the final results. I recommend her highly for website work."
Ross Varney, Pastor of Belleville Congregational Church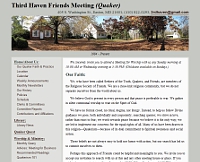 "The website, especially the voluminous announcements, are beautiful. Thanks for organizing all of this."
John Hawkinson, member of Third Haven Friends Meeting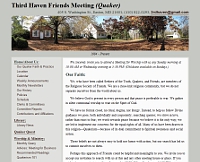 "Just wanted to let you know how nice the Third Haven Friends Meeting website looks. The info is clear and the layout attractive to the eye. The changing photos of the meeting houses and grounds are a real plus."
Dee Rein, member of Third Haven Friends Meeting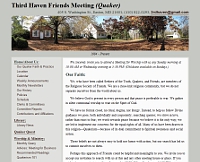 "What a wonderful job you have done to our website. You have increased the attractiveness and functionality of the site by many orders of magnitude. The layout, the calendar page, the directory page, etc., etc., etc. are all the hand of a professional. What a wonderful gift you are giving to the Meeting."
Ralph Young, member of Third Haven Friends Meeting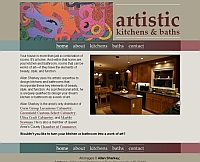 "Tatiana worked very hard to create a great web site. Her design taste matched my wishes and the result is very pleasing."
Allan Sharkey, owner of artistic kitchens & baths
User Testimonial: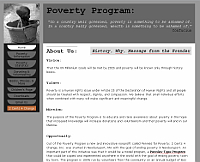 "My name is Sarah and I am an after-school counselor out in Colorado. My students have been using your webpage [Poverty Program: details] and brought to my attention how helpful it has been for them for their Global Warming project! We would like to thank you again for the wonderful resources."
Sarah Cromwell, afterskoolkids.org