Portfolio: Living Water Lutheran.org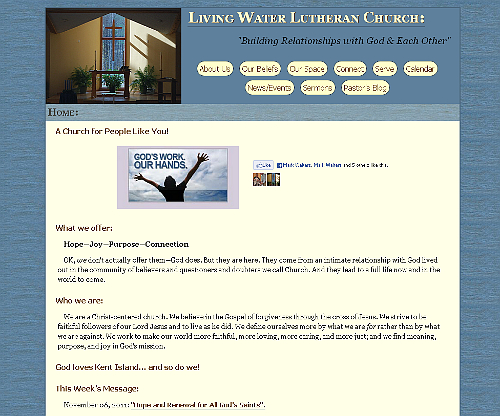 Client Testimonial:
"I found Ms. Harrison easy to work with, knowledgeable, flexible, and helpful in the process of figuring out what should (and could) go on our redesigned website. Of particular importance to me was a website that was easy for me to update. Ms. Harrison's instructions have been easy to follow. In addition, she has provided us with programming instructions to help us change the content and appearance of our web pages as needed."
Pastor Mark Walters, Living Water Lutheran Church
Site Information:
Website Address: www.LivingWaterLutheran.org;
Redesign Completed: November, 2011;
Original Design Completed: December 1, 2008;
Created With: HTML, CSS, and PHP.
Below is an image of the original design: